Expense Reduction Analysts at the 2018 Global Franchise Awards
Estimated reading time: 1 Min Read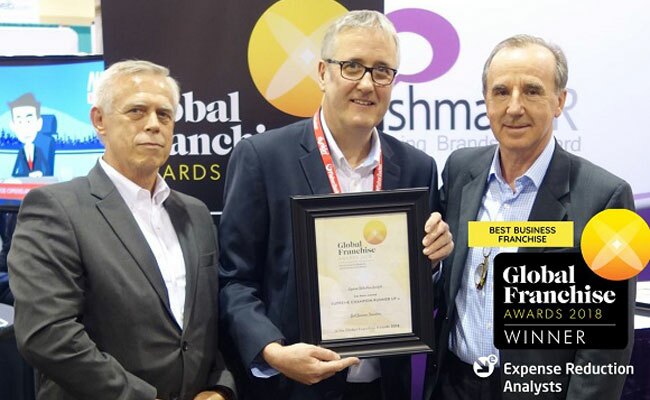 The first edition of the Global Franchise Awards, a ceremony which recognises excellence in the field of franchising, took place this month during the annual conference of the International Franchise Association in Phoenix, Arizona.
More than 80 different brands entered the competition, which was judged by a panel of professionals from the franchise industry who selected the best franchises from each sector of the industry.
The entries were judged on criteria such as the franchises' global intentions, the relationship between franchisor and franchisee and the extent to which the franchise has helped to advance the cause of international franchising.
Among the seven awards on offer were 'Best Automotive Franchise', 'Best Lifestyle Franchise', 'Best Food and Drink Franchise', 'Best Health and Fitness Franchise' and 'Best Business Franchise'.
With their founder and Chairman, Fred Marfleet, in attendance, Expense Reduction Analysts, global experts in cost and supply management, were recognised as the 'Best Business Franchise' and were the only European-based franchise to win an award.
Expense Reduction Analysts also narrowly missed out on winning the 'Supreme Champion' Award and were named 'Runner Up'.
Delighted at receiving the prestigious title of 'Best Business Rranchise', Fred Marfleet commented, "This year we are celebrating our 25th anniversary and to receive this global recognition I believe demonstrates the ambition of ERA as one of the key players in the white collar franchise industry globally. It also shows what a truly international business ERA is, operating in 32 countries in a wide variety of languages. I believe it is this unique international culture which helped us to win these awards."
Click on the enquiry button below to learn more!