World Options Franchisee: Simon
Estimated reading time: 1 Min Read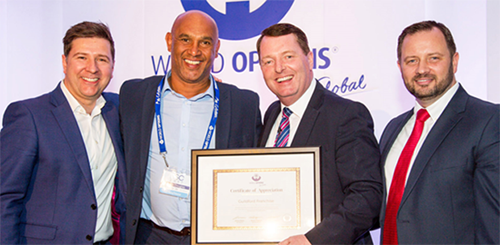 As one of the highest turnovers, earning over £400k in 2016 across the World Options franchise network, it is no surprise that franchisee Simon Douglas from Guildford is smiling. With a long career in courier sales under his belt, Simon became a World Options franchisee in November 2014 and immediately put his experience and knowledge to work. After much research into the different franchise options available to him, Simon decided that World Options was certainly the best offering and the rest is history.
The World Options franchise gave Simon the perfect opportunity to achieve his ambition of opening up more shipping opportunities and building a strong business with a high turnover and low overheads. With World Options you don't need an office – you can work from home and choose flexible hours that suit your needs. Simon decided to go for it. He put in the hard work and it wasn't long before the long hours and huge efforts started to pay off. Each year, Simon has increased his margin by providing the World Options online portal to business customers who need courier and shipping services at the click of a mouse.
Simon has drive, dedication and passion for what he does; that's the reason he has achieved such success. In his own words: "You have to have clear expectations of what you want to achieve and then just go for it, it's totally worth it".
The franchise offering creates a flexible lifestyle, but for Simon it's about building a business that is the biggest and best that it can be. It is this passion and commitment to his business that has led to a significant growth in turnover over the past three years and Simon continues to see growth and the prospect of even further gains.