Share your success by joining the number one driveway franchise
"Daniel Moquet signe vos allées"
is a landscaping business designed by Daniel Moquet who began his entrepreneurial career in 1977. Daniel Moquet has always been interested in all aspects of house exterior such as: terraces, pools, paving, etc. Since the early 1990s the company has specialised in designing driveways. This is a flourishing market, with little competition, thanks to the growth of the real estate industry.
The Daniel Moquet franchise system was established in 2005, it kept growing during the economic crisis and has then continued to expand. Today, the network has over 200 franchises
with a 99% success rate
. The goal is now to expand across all of Europe.
Daniel Moquet enlisted the help of a firm who specialises in the structuring, development and management of franchise systems, in order to maximise the chances of success for future franchisees.
The franchise has received a Qualicert certification of excellence, demonstrating the brand's commitment to quality and sustainability.
The strengths of the franchise
● Innovative concept in a growing industry in an expanding market.
● 35 years of experience in creating driveways.
● Exclusive territory.
● Staff training with technical monitoring and marketing.
● A launch plan and a marketing plan with monthly events.
● 20% profitability before tax.
● Rapid return on investment.
● Exclusive environmentally-friendly products.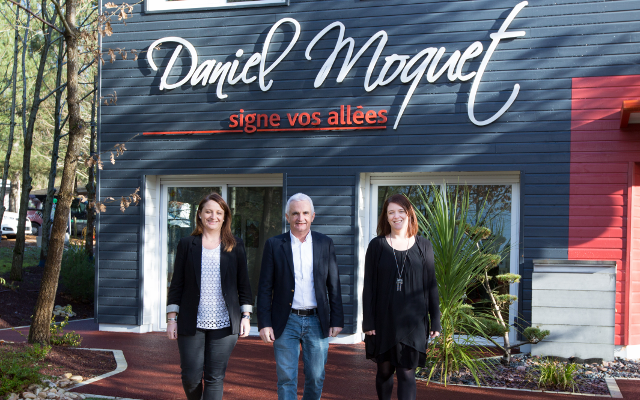 Franchisor support
● Training:
20 days' pre-training and a six-week basic training at the Daniel Moquet headquarters.
A four-week start-up assistance on site during the opening of the business.
Two days of annual training and continued follow-up training at a dedicated training centre.
● Leadership:
Four visits a year by business and technical consultants.
Area meeting held twice a year.
Additional support from regional work groups, an advisory board and the Daniel Moquet national convention.
● Services:
Company website, intranet, monthly mailings.
Do you have what it takes to succeed with Daniel Moquet?
Daniel Moquet allows you to use your sales skills, while supporting you and teaching you about the trade. As an entrepreneur, you will invest in commercial development, site management (including a small team of field technicians), and management of your unit. This is an action-filled field job!
What we're looking for:
Dynamism, interpersonal skills, an appetite for selling and an ability to motivate are all important, as is a sense of good management. You do not need to have experience in building or public works, only a keen interest in green spaces and outdoor furnishings. You will have the opportunity to earn a very good salary if you adhere to the network's key values: competence, enjoyment, respect and simplicity.
What you can expect:
First you will attend a discovery day at the headquarters where Daniel Moquet will introduce you to the brand in person, followed by three days of immersion in the business to learn more about the job and ensure that it suits you. Following this, the exclusive area will be decided by both parties, along with a financing plan and the franchise agreement.
If you would like to learn more about the Daniel Moquet franchise opportunity, simply fill out the request form below.
Daniel Moquet Master Franchise
Daniel Moquet Master Franchise Opportunity