Mail Boxes Etc. – Master Licences Overview

Mail Boxes Etc. is one of the world's largest networks of retail centres offering shipping, fulfillment, printing, and marketing solutions to individuals and enterprises to help them become more effective in running their businesses and activities.
For 40 years, Mail Boxes Etc. has been a one-stop solution for both business and retail customers, providing shipping, fulfilment, print, marketing, mailbox rental and virtual office address services.
Individually or in combination, MBE facilitates the daily operations of SME's, professionals, SOHO and private consumers, with a distinguished and unique level of customer service. With almost 1,800 service centres operating globally in more than 40 countries, Mail Boxes Etc. entrepreneurs serve around 250,000 business customers on a regular basis.
We're looking to develop the Mail Boxes Etc. brand and network throughout the world. To achieve this, we are looking to attract successful, motivated and entrepreneurial businessmen and women to own and operate master franchise agreements.
What is a master franchise agreement?
Upon signing a master licence agreement, each master licensee acquires the following exclusive rights for their country/territory:
Use of the Mail Boxes Etc. (MBE) internationally registered brand and associated trademarks.
Franchise business concept.
Dedicated ongoing support and training with a team committed to excellence.
Will the MBE business concept work in my country?
Mail Boxes Etc. succeeds internationally because of its ability to adapt the business model and extensive range of services to meet the requirements of both service-oriented businesses and convenience-oriented consumer
IF YOU HAVE THE SKILLS AND ENTHUSIASM TO:
Open and operate your own corporate pilot center
Find and secure franchisees to operate their own store(s)
Support your franchisees with: sales and operational training, and marketing support
…BECOME A PART OF THE GLOBAL MAIL BOXES ETC. TEAM!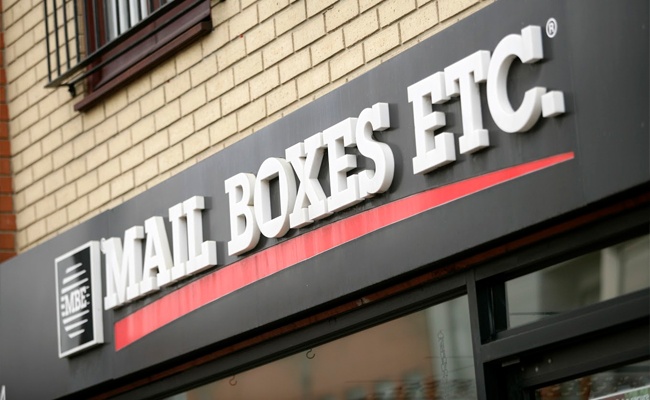 About Us
Mail Boxes Etc. was founded in San Diego, California, in 1980. Relying solely on franchising power it has evolved into one of the world's largest international networks of entrepreneurs operating retail-based logistic, communication and business support service centres.
Operating in the business services industry, MBE provides value by helping people and businesses – more precisely small and medium-sized enterprises – to improve productivity by outsourcing to MBE the business-related requirements and processes which do not correspond to customers' core business activities.
Our local presence also guarantees that our distinct set of services is conveniently available to both professionals and consumers. This retail presence uniquely positions MBE to function in the 'last mile' between companies – both large and small – and consumers, when service customisation and personal interaction are needed.
The combination of multiple MBE services (eg. shipping, printing, mailing logistics, etc.) at one location gives customers a unique, one-stop solution to bundle their personal or business needs with one reliable partner. By doing so, customers link their lives or businesses with MBE, and MBE franchisees link the value of their businesses to their customers – a formula of mutual dependence which drives higher satisfaction, performance and benefits for everyone.
Click on 'REQUEST FREE INFO' to contact Mail Boxes Etc. directly, free of charge.
Mail Boxes Etc. – Master Licences News
MBE Worldwide announces the acquisition of a majority ownership share of World Options, a UK-based provider of shipping, delivery and logistics services with more than 120 franchisees and agents across the UK, USA, Australia, the Netherlands and Belgium.
Mail Boxes Etc. – Master Licences Testimonials
Mail Boxes Etc. – Master Licences Videos
Mail Boxes Etc. – Master Licences Master Franchise
Mail Boxes Etc. - Worldwide Master Franchise Opportunity