How to Choose the Right Franchise
Estimated reading time: 4 Min Read
🕒: Six minutes
Once you have decided that it is the right time to start a franchise, you should start considering all the available franchise options. Becoming a franchisee is an exciting proposition, particularly in today's globalised environment where new opportunities for development are being offered every day. With so many viable options it can be difficult to decide which opportunity is right for you. Finding the right franchise is crucial as this is a business venture to which you will be dedicating time, money and energy for the duration of your franchise agreement. The following guide aims to help you decide which franchise is right for you.
Self-Evaluation
Debbie Ford once stated that, "self-awareness is the ability to take an honest look at your life without any attachment to it being right or wrong, good or bad." This ability to appraise and analyse your life, your goals and your personal motivations is essential when it comes to evaluating the right franchise opportunity.
When considering the range of opportunities available, there are a number of key considerations that you must consider:
What is your financial situation? – If you are considering starting a franchise, then you have presumably analysed your financial situation and determined what entry costs you can afford. Searching for franchises within your price range will narrow down your options. Further considerations such as whether you want to work from home, or operate a part-time franchise will also be impacted by your finances.
What is your passion? – Perhaps you are a young entrepreneur or maybe you have worked in a specific industry for a long time but, either way, franchising is a great opportunity to pursue your passion due to the training and support provided as standard.
What are your goals? – Evaluate your short-term and your long-term goals and make sure that you consider industries and franchises which will allow you to develop these. Longevity is a key consideration in franchising.
Industry Evaluation
Having carried out the self-evaluation suggested above, you should have a much better idea of what you are looking for from your franchise. The ideal franchise will match up not only with your resources but also with your goals and your personality-type. Having evaluated your finances, your desired time commitment and your ambitions you can start to look at specific industries which offer opportunities that align with each of these factors.
If you find an industry in which you would like to work, the next step is to evaluate the specific requirements of that industry. Do these franchises generally require specific qualifications? Is there strong competition in this industry? Do you possess the transferable skills required to succeed in this industry? Is this industry a seasonable industry – will it be possible to maintain profitability throughout the year?
Answers to these questions can be found either online or through asking individuals who work within this industry. Do not limit your questioning to franchisors or franchisees, anybody with experience in this area is a valuable source of information.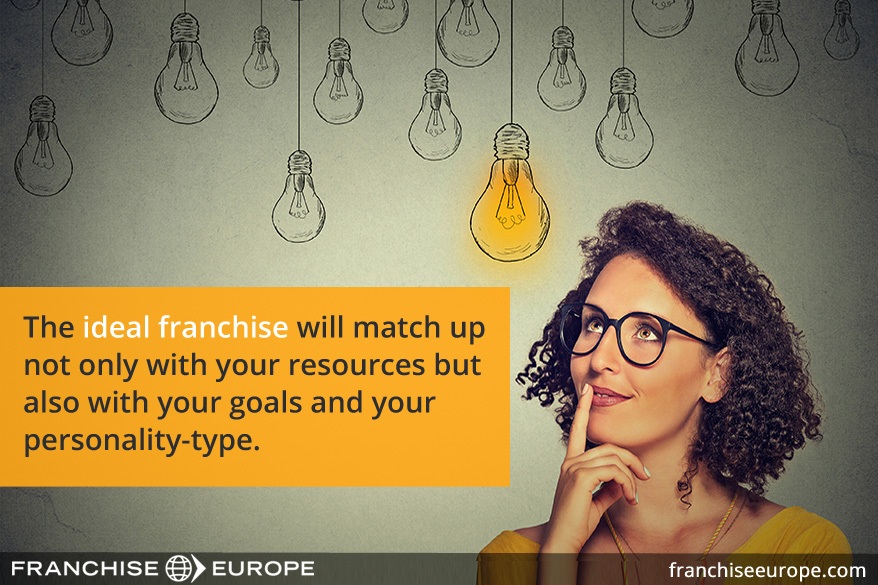 General Franchise Evaluation
Having decided on the industry in which you would like to operate your franchise and determined that it matches up with your key requirements, it is time to start examining the available franchises within this industry. Your key source of information will be the franchisors themselves, with whom you can arrange a call-back at their convenience. They will be able to answer your pressing questions and provide solid metrics on the feasibility of the business.
You did not need to only approach a single franchisor at this stage, it is perfectly acceptable to request information from any franchise you are genuinely considering. Another core source of information is the franchisees of a specific franchise and you should ask the franchisor for the contact details of these. Where possible, try to contact all the franchisees of the franchise you are considering and not just those recommended by the franchisor.
Franchisees will be able to give you a genuine insight into the business and key questions you should ask include:
Is the franchisor easy to work with?
Is there ongoing training and support?
How long does it take to make a return on investment?
Specific Franchise Evaluation
Having researched a number of franchises within your chosen industry and talked to a range of franchisors and franchisees, you will likely have found a franchise which matches your requirements. Ideally, you will have made contact with franchisees of this franchise, and the next step is to arrange a visit to an existing franchise. If you shadow a working operation, you will gain valuable hands-on experience regarding what the day-to-day life of running the franchise will be like.
When it comes to officiating your decision to start a franchise, take care to check all the facts available and do not rely solely on your instincts. If you live in a country which requires franchisors to distribute a franchise disclosure document (FDD), make sure you receive this as it is a key element of the pre-sale disclosure process.
When you receive the franchise agreement, make sure you engage with your lawyer to discuss each of the terms and conditions detailed by this agreement. You must ensure that you understand the laws of your country in relation to franchise disclosure, as these vary greatly throughout Europe. When you fully understand every element of your contract, and comprehend both your rights and your responsibilities as a franchisee, you are ready to sign the franchise agreement and start your franchise. Good luck!
Take a look at the wide range of available opportunities in our A-Z Directory and for more content, sign up for our newsletter.