The Right Time to Start A Franchise
Estimated reading time: 5 Min Read
🕒: Six minutes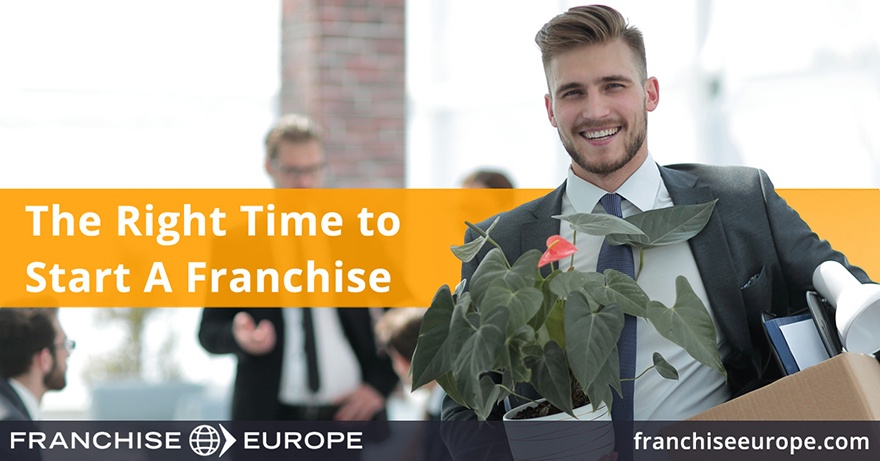 "Definitiveness of purpose is the starting point of all achievement."
W. Clement Stone.
Questioning the right time to start any venture is a natural and a healthy element of the decision-making process. If you have researched franchises and decided that this is an opportunity which interests you, if you know which industry you would like to start or if you have already decided which franchise is right for you then the question of when to make this leap is essential. There are a number of definitive factors which you must thoroughly evaluate before starting a franchise. It is imperative to reflect on each of these following questions and analyse your answers carefully. This will help you to gain a better understanding of whether or not now is the right time for you to start a franchise.
Q1. Is this a financially viable time for me to start a franchise?
Finding the answer to this question is not simply a matter of examining the minimum investment required by a franchise you are interested in and matching it against your personal financial situation. Every franchise has its own financial arrangements and these will be laid out in the franchise agreement, which you will sign should you chose to proceed with a franchise opportunity. The costs involved with starting a franchise are rarely wholly encapsulated in the initial franchise fee.
Other costs may include:
Legal or accounting fees – you will require professional support and advice from a solicitor or accountant when it comes to signing the franchise agreement, and also when setting up the records and bookkeeping accounts of your business.
Inventory (if applicable) – your required supplies and/or inventory may be covered in your original franchise fee but, if they are not, this is a key cost to consider before starting a franchise.
Travel costs – whilst training is generally (though not always) covered by the franchise fee, the cost of travel and living expenses whilst training is not usually included in this, and must be accounted for prior to signing the franchise agreement.
The other side of this is that you should not immediately dismiss a franchise opportunity as being out of your budget. There are numerous options for funding your franchise. Many franchises offer direct or third-party funding assistance, which will offset the personal cost of running your chosen franchise. Alternatively, many banks offer loans and funding assistance to prospective franchisees, particularly if the franchise in question is a reputable and/or recognised brand.
Q2. Do I have the required industry knowledge to run this franchise?
The level of industry experience required for starting a franchise differs greatly depending on the franchise in which you are interested. For instance, product-orientated franchises generally do not look for any substantial experience but management franchises often require that a prospective franchisee has a background in a similar industry.
Whether or not experience and/or industry knowledge is required by the franchisor, it is important to make sure that you have the transferable skills required to successfully implement the business model. If you look at franchising success stories you will see that the most effective franchisees may not have worked previously in the industry they entered but they will have developed the key skills required for success, prior to starting their franchise.
These skills will vary in accordance with the franchise you are looking to start but there are a number of attributes that are commonly found in high-achieving franchisees, including:
Communication skills – the ability to communicate with both the franchisor and your clients is a key ingredient for franchising success.
Self-motivation – training and support are generally standard but in order to be your own boss, you will need to be highly self-directed.
Problem-solving abilities – being a franchisee means being able to make decisions and solve problems quickly and effectively.
Financial and time management capabilities – the capacity to manage time and finances effectively is an essential component of successful franchising.
Q3. Do I understand the full implications of starting a franchise?
Signing the franchise agreement is a serious legal commitment and it is important to fully comprehend your rights and your responsibilities as a potential franchisee. This means you must become highly familiar with the terms of your franchise agreement. This agreement will establish, amongst many other factors:
The fees associated with the franchise.
Confidentiality and competition restrictions.
Renewal opportunities.
Franchise territory considerations.
Before considering signing on the dotted line of any franchise agreement, it is critical to ask yourself whether or not you genuinely understand the full implications of starting a franchise. There are a number of resources which can help you with this question:
You can ask your lawyer to walk you through the terms of the franchise agreement, and also the legal precedents of the franchise industry in your country.
You can request more information from the franchisor.
You can ask other franchisees from your chosen franchise, or franchisees from completely different industries to discuss their experiences.
You can research a wide variety of online resources on this subject including our recent article, "What is Franchising?".
Q4. Is this the right time for me personally to start a franchise?
Brushing all the financial and legal implications of starting a franchise to one side, the most important question of all is whether you are emotionally ready to start a franchise and become a franchisee. If you are experiencing stress or upheaval in your life, it may not be the right time to start a high-investment or full-time franchise. Remember that there are a number of part-time and home-based franchises which might be more suited to you at this time.
It is essential to have a great support network around you when you start any business venture, as you will rely on personal support during the initial phases of implementing your business. Make sure that you have this network in place before commencing any franchise opportunity.
As stated above, an important element of being a successful franchisee is the capacity for self-motivation so you must question whether you are emotionally ready to be in charge of your own success. Not every element of your personal life needs to line up for it to be the right time to start a franchise, but starting a business is an exciting time in your life and you need to be the right frame-of-mind to embrace the potential of this opportunity.
After the checklist
There is rarely a perfect time but there is always a right time to join a franchise.
With all large commitments there is a fine line between taking the required amount of time to consider every viable outcome and simply putting off making a decision altogether. If you can answer YES to all the above questions then it is likely you are in a very strong position for starting a franchise opportunity. The next steps may be searching for the right franchise, contacting a franchisor of interest or seeking legal advice but if you are confident and motivated then you are already in a great starting position. We wish you the very best of luck.
Take a look at the wide range of available opportunities in our A-Z Directory and for more content, sign up for our newsletter.