Why a capsule coffee shop?
Coffee is a consolidated, stable, daily product . It is not a fashion product, but is consumed every day by people of all ages, genders and regions.
The coffee capsule market in Italy is constantly growing , thanks above all to the change that is taking place in this sector.
More and more families are abandoning the traditional moka for the world of capsules and more and more international, national and local artisan coffee roasters are producing their blends in capsules compatible with the most widespread systems.
According to market data, this sector offers excellent opportunities to be seized in the immediate future.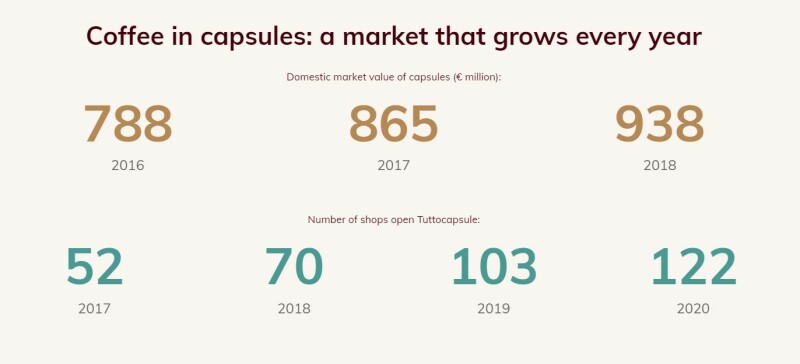 Key features to franchise success
Position: Our experts will support you in identifying the ideal location for the store, providing an exclusive territory .
"Turnkey" Store: We have studied a format with a precise and recognizable identity , which we offer with a personalized quote .
Support: TTC will support you along the way: you will receive newsletters with new products and special offers, social media material and advertising .
Training: Our staff will provide you with training to learn about the characteristics of the coffee blends and the sales techniques for all products.
We are coffee lovers
Tuttocapsule has a history made up of people, experience, commitment and professionalism .
Peculiar qualities of our chain of capsule and pod shops for everyone. Tuttocapsule is a place where you can find hundreds of blends from all over the world, expertly crafted by the best Italian roasters .
In the Tuttocapsule shops you will find the pleasure of choosing which flavor to give to your break. Our offer includes a wide selection of coffees: from crus to sweeter and creamier blends, at an incredible price. Tuttocapsule offers products from the best Italian roasting companies in compatible capsules for a moment of exceptional flavor and taste, but that's not all. A vast assortment of hot drinks to satisfy every palate. Do not miss the teas, herbal teas, barley and ginseng.
Looking for a lucrative franchise opportunity with taste?
Request free information below now!