Fresissima Oltre il franchising Overview

About Fresissima Oltre il franchising
The activity of the Fresissima Oltre il franchising consists of selling rotary instruments and burs to a set of exclusive customers, dentists and prosthetists.
At your side, as the protagonist of this exclusive market, there will be the Dam Group, the only true Italian manufacturer of tungsten carbide milling cutters with 30 years of history.
Our commercial proposa Fresissima Oltre il franchising allows easy access to a niche market, protected and very profitable.
The dental sector is once again placed at the top of the strongest markets for its stability and wealth, in recent years too.
A distribution right and a real exclusivity of sales area and products will be granted to you by the company on a region of 500 dentists.
The fresissima® brand stands out for producing unique products on the market thanks to the possibility of customization and Made in Italy quality.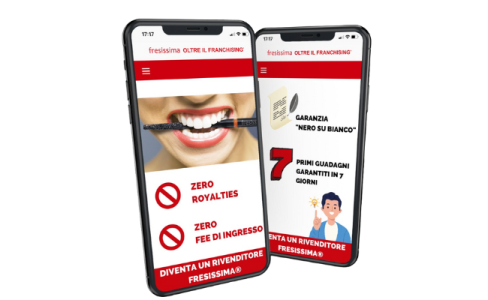 4 good reasons to join this network
Unique all-inclusive investment with a written guarantee, called "black on white" formula, which will allow you a rapid return on investment and profits already within 7 days of starting your activity.
Fixed costs are very low; no royalties, entry fees or advertising costs are to be expected. You do not need commercial premises or a warehouse.
Initial training, assistance before, during and after opening.
Possibility of developing your own sales network with sales agents, trained and supported directly by the company.
Key company & franchise features
Top dental industry 'Best Business Partners' ranking out of 210 companies (Plimsoll Research 2020):
21st fastest growing company
9th among the most profitable companies by ROA
The Dam Group is the only Italian manufacturer present in the dental sector and, thanks to the production and distribution of highly innovative Made in Italy supplies, is the main protagonist of this market, both in Italy and in the rest of Europe. .
Today, the company continues to strategically expand its French distribution network through the Fresissima Oltre il franchising system, specially designed to allow you to easily enter the dental sector. The Dam Group owns the brands: fresissima®, disteno®, Vibra®, Xtruments®.
Are you a good fit?
The company is looking for entrepreneurs/investors or people who wish to become one, with a strong motivation and a passion for the sector in question. No dental or commercial skills are required, because the company offers a structured training program with coaching directly in the field, also reserved for commercial agents that the entrepreneur wishes to employ to further develop his activity.
Do not hesitate to contact the head of the network to find out more about this business opportunity by means of the request for information.
A referent from Fresissima Oltre il franchising will contact you via Italian telephone number: all the information will be given to you in French.