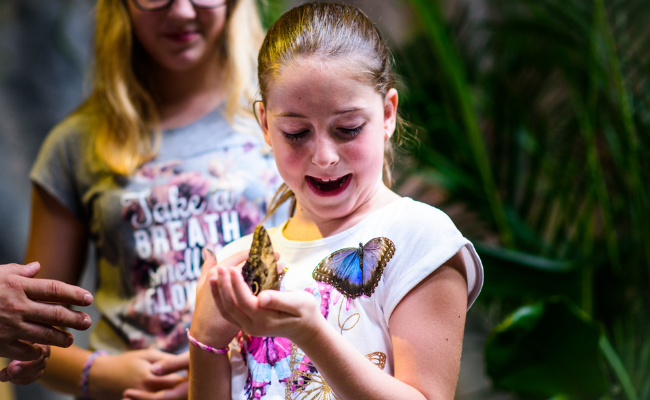 Here, visitors can see the most beautiful butterfly species in the world up close, some with a wingspan of up to 20 cm.
Visiting the Butterfly House is a hands-on tour. There are no barriers between the visitors and butterflies in the Butterfly House. Exotic butterflies have no innate fear of humans, and so they are not stressed whatsoever by their presence. On the contrary, they interact well and often quite directly with the visitors (e.g. they land on a guest with bright-coloured clothing, butterflies are also attracted by the fragrance of fruity perfumes, etc.).
Thanks to this, the Butterfly House follows the current trends and times that are oriented towards social media and the on-line sharing of experiences. The concept of Papilonia corresponds with the demand for hands-on tours, in which visitors have the chance to actively interact with the tourist attraction. The opportunity of taking a "selfie" with a live specimen or to photograph live animals up close is a desired added value that Papilonia fulfils at its very core.
Papilonia is a concept of butterfly houses that is unique worldwide, and you will not find it anywhere else!
It can be realised in almost any commercial space
Year-round operations anywhere in the world
Savings on investment costs and overhead costs
Appropriate even for the complete layman in the field of lepidopterans
Original styling of the interior
What Makes Papilonia So Exceptional?
Papilonia is an exclusive and unique concept of butterfly houses worldwide, providing the optimal conditions for the healthy and active life of butterflies. These conditions are created in the Papilonia Butterfly Houses absolutely independently on the outdoor conditions, the surrounding climate, and the weather. This is a solution that eliminates all the limitations, problems, and disadvantages that the operators of standard butterfly houses must deal with. Thanks to this unique concept, it is possible to operate a Papilonia anywhere in the world.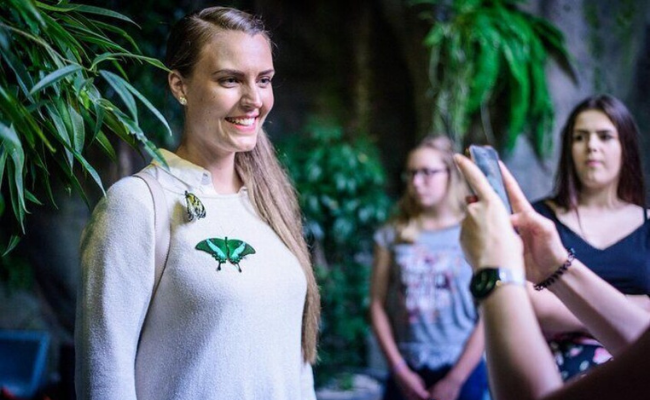 Benefits
Know How
- We will teach you everything you need to construct and successfully operate your butterfly house. We are also able to construct a "customised" Papilonia anywhere in the EU.
Fully Automated System
- A complete layman in the field can operate a Papilonia Butterfly House. This business venture is suitable also for you, although you do not have any knowledge of butterflies.
Additional Services
- We will ensure regular deliveries of high-quality and screened butterfly cocoons, keeping in mind all customs and veterinary regulations.
Marketing Material
- We will provide you with our logo, our graphics, and a graphics manual. You will also get access to the prepared editing system with a website, into which you will simply paste the text and photographic content corresponding to your facilities.
Worry-Free Project Realisation
- We contractually commit to the guarantee of constructing a fully functional ecosystem at the value of 100 % of your investments.
Exclusive Rights
- No competition! You will be the only ones in your region who can offer visitors the experience of Papilonia Butterfly Houses.
Click below to request more information about this incredible opportunity!
August 16, 2021 12:47 PM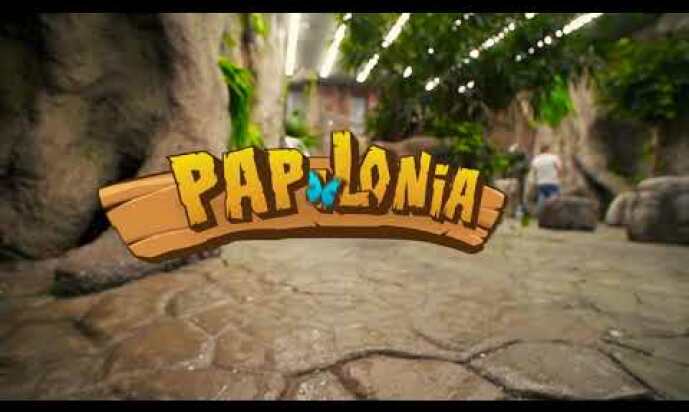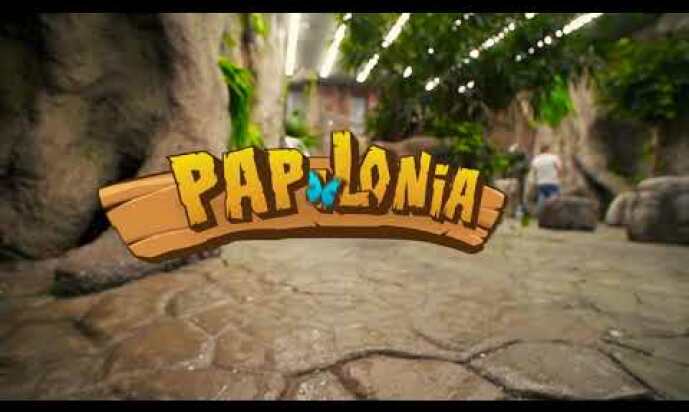 What Makes Papilonia Special?
A look at the butterflies that make Papilonia such a special franchise
August 16, 2021 12:42 PM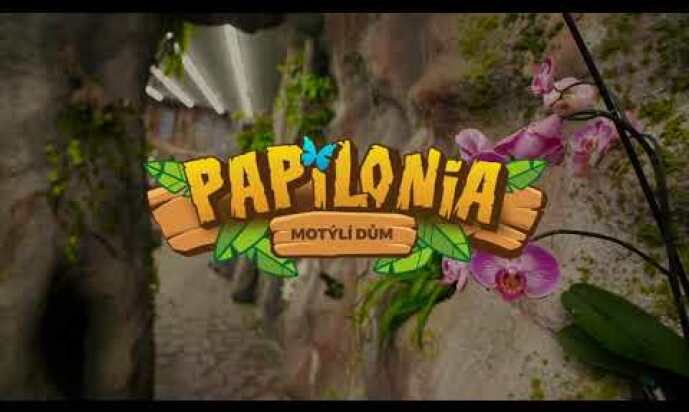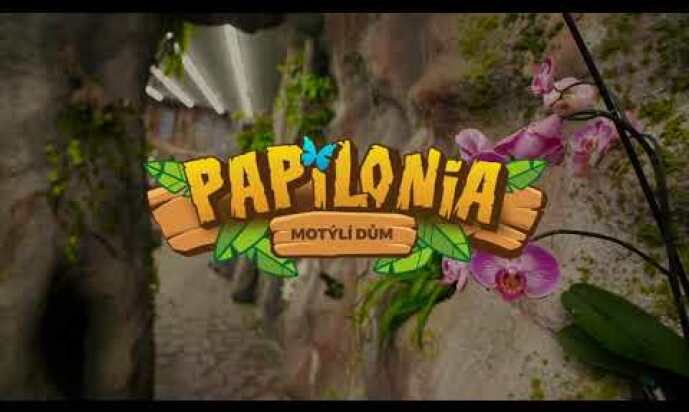 The Papilonia House - Butterflies
A look at the butterflies of the Papilonia House
August 09, 2021 12:07 PM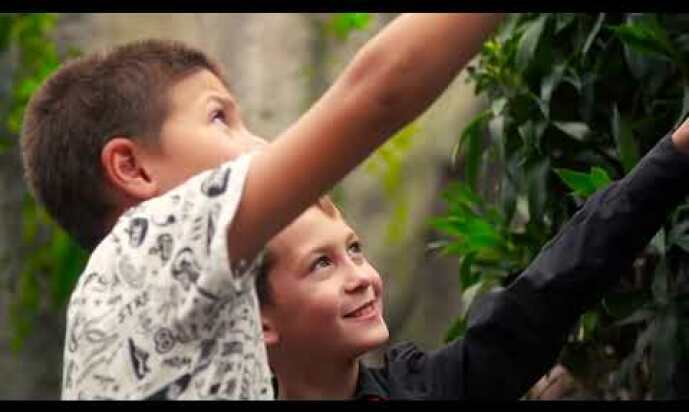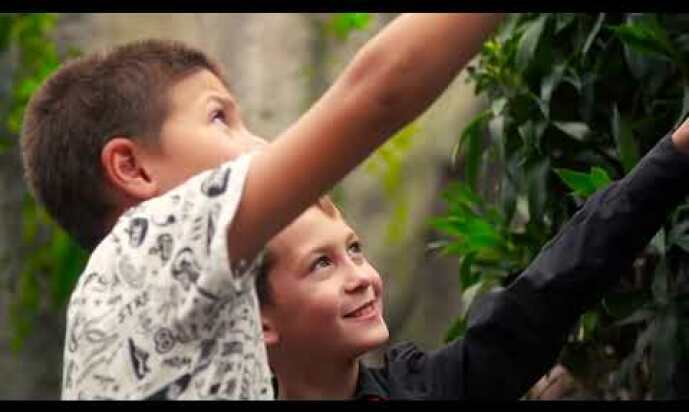 Papilonia Butterfly House
A look inside the Papilonia Butterfly House
Papilonia Master Franchise
Start a Papilonia Master Franchise Opportunity