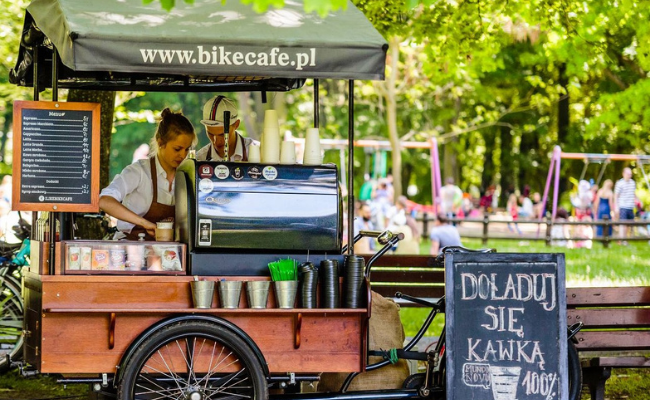 Bike Café - Eco-Friendly Mobile Espresso Bar!
Coffees are served on stylized, adapted bicycles moving freely in the urban spaces.
The city, the bicycle and the coffee. It is the lifestyle of the whole generation… How can this be combined? In 2012 the founders in Poland had the brilliant idea - Bike Café! Following the concept of being responsible for the environment, we have managed to fit right into the XXI century trend, allowing us to grow to 100 bikes worldwide! All that while maintaining excellent quality of products and solutions that allows to sell like full-sized café in heart of the city, but not being bound by expensive rents and without hiring dozens of people!
Values of Bike Café
Bike Café is around 10 times cheaper than opening a café and much, much easier.
Bike Café is mobile and flexible – you can sell coffee, where your customers are.
Bike Café is about being your own boss. You decide how and where you run your business.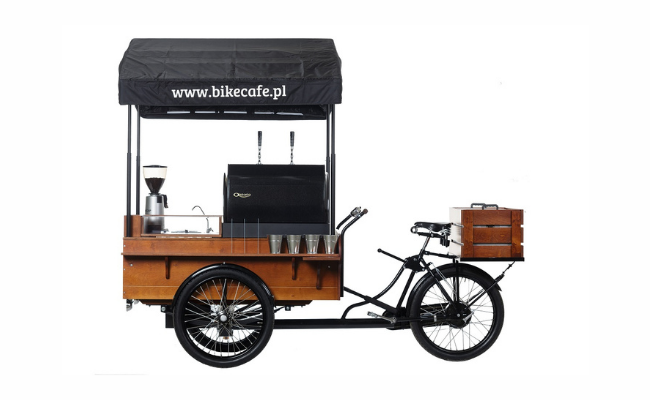 Our Offer - Bike Café Goes to the Customers - Outdoor, Indoor, At Events
Bike Café is not only a coffee menu. We take flexible and personalized approach and allow you to introduce new products to your portfolio such as snacks, juices, sodas, pastry. The idea is to deliver the quality wherever it's needed: to parks, beaches, hiking trails, office buildings, train stations, university campuses etc. Events and festivals are another important element - our solutions do not require a power & sanitary base which allows you to place the Bike basically anywhere! Our team will support you in order to maximize the efficiency of your business.
Bike Café is an all-year round business. Equipped with a set of winter covers and accompanied by a radiant heater allow you to work even at -10 degrees Celcius!
Recent years have also proven resistance to COVID sanitary restrictions. As our cafés work in take-away/delivery model only, we've been one of few food&beverage businesses that could operate outdoor and without interruptions!
But Do I Know the Right Location?
Bike Café will help you with finding right locations for you business. Thanks to our experience and knowledge of consumer bahaviour, we will perform a research and guide you through the proces. Of course – nobody knows your city better than you, so all suggestions are welcome! And in case it turns out the location didn't meet your expectations after all – you just hop on a bike and move it elsewhere! Isn't that the best thing about Bike Café?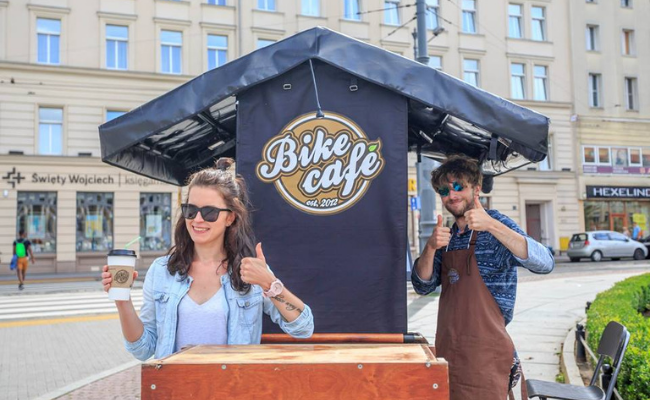 Be a Part of Bike Café Story and Run a Nice Business With Us
We guarantee our franchisees:
Fully equipped and ready for use Bike Café designed and built by experienced craftsmen using only high-quality European components
Start up package with Barista Kit
Help with the financial planning, the investment and sales & cost plan
Support in finding the location
Area exclusivity and/or master franchise partnership
Blend of beans roasted for Bike Café (speciality coffee)
Operational organization of your bike
Barista and franchisee training in our HQ in Poland
Advertising materials
Operational guidelines
Employees' outfits
Bike Café Monitoring System – management platform
Maintenance training and 24/7 service line
Get Your Bike Café Business Rolling!
Convinced? Would you like to share the Bike Café feeling?
Just make three simple steps: contact us, tell us what you need, get a solution!
Bike Café Master Franchise
Bike Café Master Franchise Opportunity