Signarama Celebrates Major Milestones During World Expo Event
Estimated reading time: 3 Min Read
Signarama®, the world's leading sign and graphics franchise, recently hosted hundreds of franchisees and vendors during the United Franchise Group (UFG) World Expo in West Palm Beach, Florida. The four-day event took place at the Palm Beach County Convention Center, just a few miles from the Signarama global headquarters.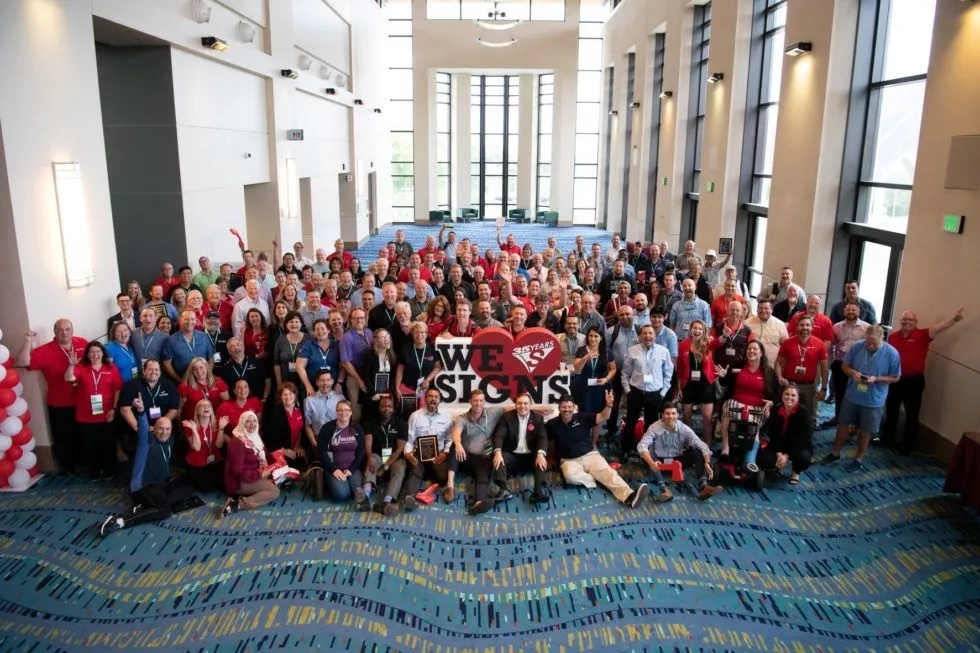 More than 200 Signarama franchisees attended the brand's biggest event of the year, which also happened to be a 35-year celebration for the brand. With a jam-packed agenda, franchisees learned about the latest updates in technology, product development, marketing strategies and vendor partnerships. In breakout sessions, speakers addressed important strategic topics on how to make our franchisees even stronger. In addition to brand-specific content, franchisees had the opportunity to attend general sessions and hear from UFG leadership, including CEO, Ray Titus. Attendees also had the unique opportunity to hear from four keynote speakers including motivational speaker, Joe Theismann; author, Chris McChesney; and founder of Fans First Entertainment and owner of the Savannah Bananas, Jesse Cole. Each of the speakers brought fresh perspective to our franchisees and left them inspired, motivated and ready to apply lessons learned during Expo!
Highlights from the 2021 convention include:
• 2020 system-wide sales reached $341 Million which was impressively up from $316M in 2019.
• 63 Signarama centers around the world qualified for inclusion in the Million Dollar Circle in 2020. Criteria for inclusion was $1 million dollars in gross sales in the calendar year of 2020.
• The Signarama President's Award, which recognizes a longstanding franchisee with excellent performance, significant contributions to the benefit of the brand and consistent sales impact and growth, was awarded to Beatriz Cardona & Roberto Hiller in New Tampa, FL.
• The 2020 Signarama MVP award was presented to Bob Chapa III, Signarama Troy/Metro Detroit, MI, for achieving over $8 million in sales in the calendar year of 2020.
• Over 100 vendors were present on the United Franchise Group Trade Show floor for live demonstrations of the latest products and equipment.
• The 2020 Signarama Sign Awards Ceremony honored franchisees who produced amazing projects across 11 categories, including the "Best In Show" Award, which was presented to "JB" Jason & Cynthia Brown from Louisville (Dixie), KY for their team's work on a stunning design for local celebrity Chef Fernando Martinez's latest restaurant concept, La Bodeguita de Mima.
One of the most exciting parts of the World Expo was when Signarama set a GUINNESS WORLD RECORDS™ for most signatures on a banner in one hour. On June 28th, the brand successfully captured the needed signatures on the 25-foot banner that was themed "We Love Signs" in celebration of their anniversary marketing campaign. GUINNESS WORLD RECORDS™ adjudicator, Michael Empric, flew in for the event and was present to count each participant. He later officially announced and confirmed the record attempt totaling 689 signatures on-stage in front of all the participants. The minimum number to set this GUINNESS WORLD RECORDS™ title was 250.
"The 2021 World Expo event was remarkable. This was the first time that we've been able to gather with our franchisees for an in-person event in over a year and to top it off, we got to celebrate 35 years in business together," said A.J. Titus, President of Signarama and United Franchise Group. "The hard work and dedication to the brand was apparent during the awards, where we recognized a record number of award winners this year. In total, the brand gave out nearly 300 awards to Signarama franchisees from across the globe. Without our franchisees, we wouldn't be where we are today."
Additional awards presented at the event included the following:
Hall of Fame Inductees
Todd & Stephanie Cunningham: Frisco, TX
Bryan & Katherine Duquet: Clinton Township, MI
Ed & Arlene Sullivan: Asheville, NC
Master License Partner of the Year
Olivier & Rouba Fossat: France
Humanitarian of the Year
John & Ashly Robbins: Redding, CA
Mike Ziccardi & Dawn Tiritter-Bent: Huntington Station, NY
Most Improved
Mike & Beth Powers: Flint, MI
Aaron Grochowski: Bloomingdale, IL
Rookie of the Year
Matt & Kelly Mattingly: San Antonio NW, TX
Dan & Kendra Pearson: Lake Mary, FL
Team Player
Ric & Karen Anderson: Salt Lake City, UT
Alex & Sharon Fong: Redmond, WA