A Career Change at 60: The Top 10 Reasons Why Franchising is a Good Alternative to Retirement
Estimated reading time: 4 Min Read
🕒: Three minutes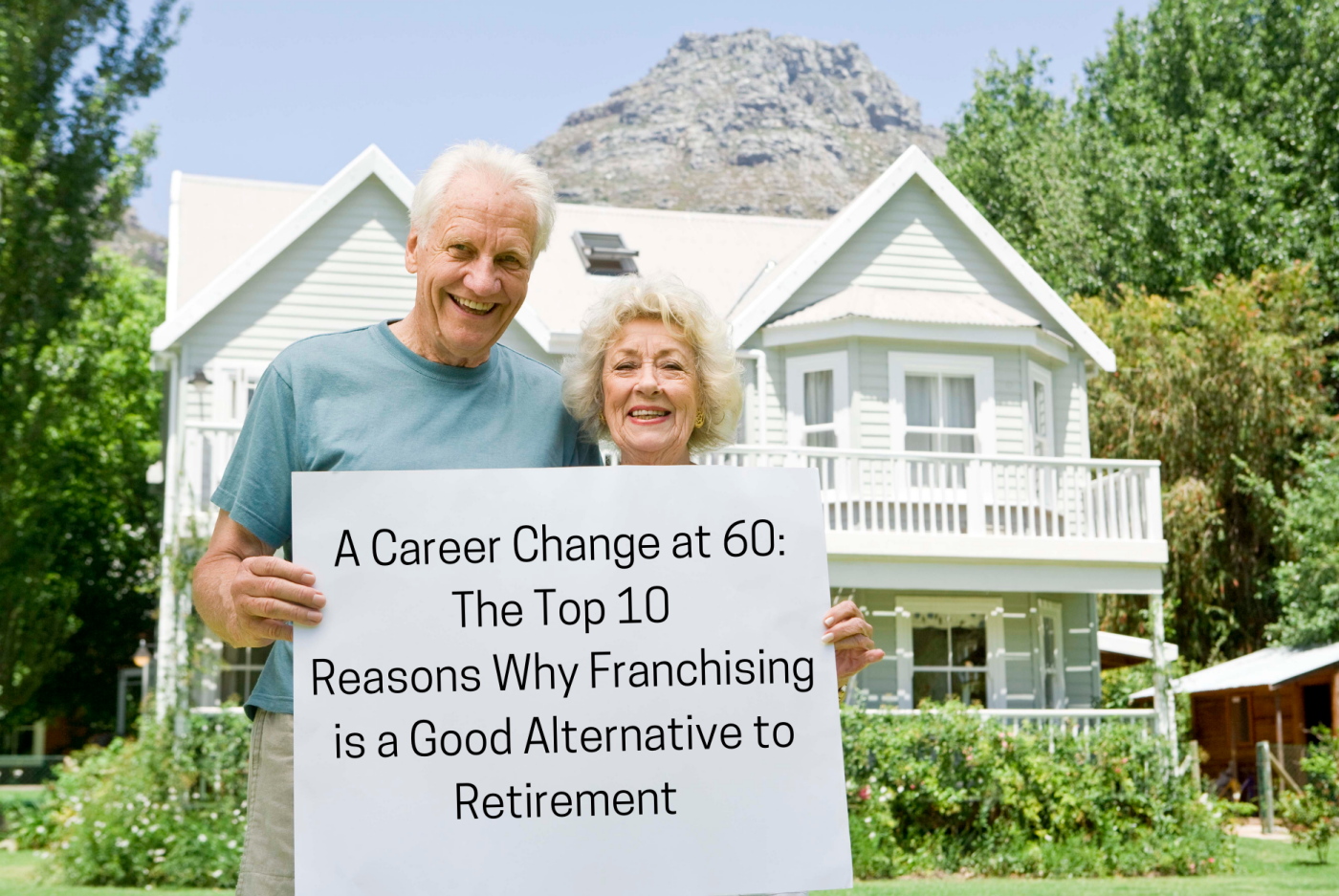 It's safe to say that most people would never consider a career change when they turn 60. And after having spent the past 30-40 years of their lives working, who could blame them.
While most people at this age would be planning their retirement, this isn't always the case. There are those who aren't ready to stop working and often seek out a new challenge rather than hang up their work boots so to speak. Unfortunately, the main problem standing in their way is that very few companies want to hire a 60-year-old.
Fortunately, there is a solution to this problem. Franchising!
Franchising is an incredibly popular route to business ownership for ambitious entrepreneurs of all ages. Many franchise brands even go as far as actively seeking out older franchisees who have extensive managerial experience and expertise in one or more sectors. So, let's take a look at Franchise Direct's top reasons why becoming a franchisee can often be a more exciting alternative to retirement.
No Experience Required
Just because you may have spent the last 30 years or so working in a particular sector doesn't mean you are restricted to working in the same field as a franchisee. For example, if you're prior career was in finance, that doesn't mean you can now only work in a finance based franchise.
There are more than thousands of franchised brands out there which allow a person to reinvent themselves. If you want to work with children then you can do so. There's no teaching degree required to run an educational franchise. If exercise is your thing then you can own your own fitness franchise without even breaking a sweat. The majority of the time, you just need to hire the right people who are experts in the field while you run the overall business.
Draw From Previous Experience
While you don't need to have specific industry related experience to operate a franchise, you can feel free to use the expertise you do have to your advantage. If you've spent the past 30 years working in finance then maybe you'll want to put all that knowledge you've acquired to good use and open an accountancy franchise. If you're previous career was in marketing or sales, those skills can be used in different ways now as well. The possibilities are endless.
Be Your Own Boss
Without a doubt, one of the biggest draws to becoming a franchisee for most is definitely working for yourself and being your own boss. Have you always been an employee but never had a say in how things were done? Owning a franchise allows you to go from being an employee to the one who makes the decisions and has the final say in how the business should be run.
Finance Yourself
While most franchises will allow for 3rd party financing options through formed partnerships with major lenders, there is always the possibility of forgoing this and financing yourself through either your retirement package or a redundancy settlement.
If you're worried about risking any payment you may have been given then not to worry, there are multiple options when it comes to getting financed when investing in a franchise.
Keep Busy / New Adventure
One of the biggest worries for somebody when they are considering retirement is how to kill time. Aside from being a brand new adventure, owning a franchise is a great way to keep busy as well as providing an incredible sense of achievement along with it.
Earn an Income
Starting your own business from scratch isn't always commercially viable. That is why franchising is so popular. Being a franchisee allows you to earn a living from a proven concept based on a successful franchise business model.
Once you're up and running and acquiring new customers based on brand recognition, you can begin to grow the franchise into a profitable business in a short space of time.
Work Your Own Hours
We would all love to be able to work our own hours whenever we choose. Owning a franchise allows you to do just that. One of the great joys of franchising is that you don't have to work full-time to make the business work. Many franchise brands can operate on a part-time basis, while others are seasonal and may only be busy for a few months of the year.
This allows for much more control over how, when and where you work. There is no such thing as a 9-5 job when owning a franchise. It is all down to what makes you happy and what you're comfortable with.
Online Franchising
Online franchising takes the stress out of commuting to and from the office or outlet and allows you to operate your franchise from a remote location, quite often the comfort of your own sitting room.
Operating an online franchise also brings with it a number of other advantages such as low overheads and familiar surroundings. You'll have the potential to generate a significant income at minimal cost, all from the comfort of your own home.
Learn New Skills
Ever heard of the expression that you can't teach an old dog new tricks? We don't believe it for a second. There is always time to learn new skills if you're willing and eager to do so. Who needs an accountant if you can learn to handle the books for yourself? Why not do a course in social media management and learn to sell through social channels. The possibilities are endless. You just have to be willing to give it a try.
Make New Connections
One thing that a lot of people don't know is that once you become a franchisee, expect to make a lot of new connections very quickly. From suppliers to employees and customers, each day will bring a selection of new faces to your business. It is up to you to mould these new connections into worthwhile relationships that can help the franchise grow and thrive.
<h4>To find your perfect franchise, take a look at the wide range of opportunities in our A-Z Directory.</h4>