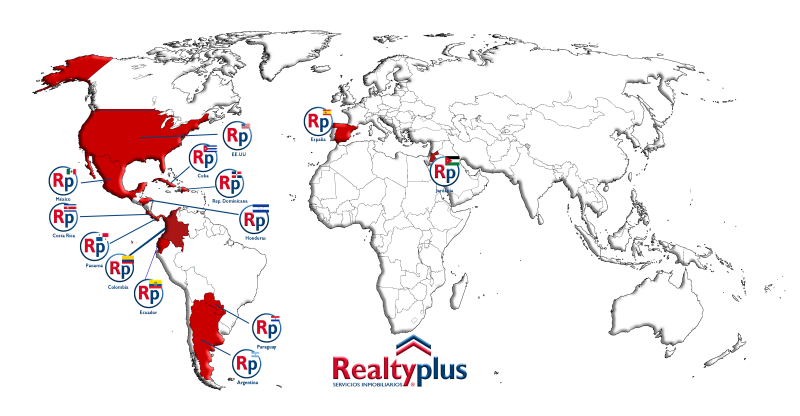 Realtyplus was born in Spain in 2001, becomes a franchise network in 2016 and begins its international expansion in 2018.
Right now Realtyplus is already present in 15 countries.
Our services are focused on Real Estate Management (sale of real estate of all kinds, rentals, rental management, ...), but our vocation to offer comprehensive services enables us to offer our clients complete services, always in the company of the best partners .
What Differentiates Realtyplus From Other Networks?
There are many ways to be different, but being different by adding value to everything you do is not an easy task.
From Realtyplus Headquarters we provide our franchisees with a series of tools and services that will allow them to be the leading Real Estate Agency in their area and have clients for life.

12 Reasons to be Realtyplus
1. High-level training
Specialized training for each position: Agents, Managers, Coordinators, Team Leaders, Support Staff, Assistants, ...
Training on work areas, specific services, technology, ...
2. Successful working methodology
Own work and organization system focused on attracting and loyalty of clients based on complete and high quality real estate services.
3. Cutting edge technology
Management of the Real Estate Agency. Management of all the commercial work of the Agency. Communication tools. Specific tools (rentals, valuations, telecommuting, ...)
4. Modern brand image
Updated corporate marketing. Campaign design. Online and offline marketing.
5. Complete cooperation system
The real estate world has no borders, neither do our clients. Through our collaborative systems you can offer all kinds of services to all kinds of clients locally, nationally and internationally.
6. Real flexibility
We have several franchise models that adapt to the needs of all our franchisees. (Iron, Quartz, Opal, ...). It can be changed from one model to another at any time.
7. Wide portfolio of properties
Thousands of properties to market at your disposal from day 0. Agreements with groups for the sale of their properties.
8. Wide portfolio of buyers
Thousands of demands to offer your properties at your disposal from day 0. Investors locally, nationally and internationally.
9. Intensive marketing
Realtyplus provides you with a Marketing department to create campaigns, obtain job templates, dossiers, flyers, online marketing, customer acquisition tools, automatic links to publish properties, ...
10. Plus Services
At Realtyplus we have no limit on the services we can offer our clients. Rentals, sales, investors, residential, vacation, local, logistics, land, urban developments, financial, legal, insurance,..
11. Growth without limits
Your business can grow without limit at Realtylus
Your market is the world, limit it yourself if you want.
The services that you can offer to your clients are unlimited.
We can help our clients in EVERYTHING they need and is humanly possible.
You can develop new online services and participate, if you want, as a shareholder in them.
You can be a co-owner of the network.
You can grow, evolve your office, open more offices, points of sale, ...
Contribute ideas to the network and benefit from it.
12. Solidarity also Plus
Our work is based on human relationships, we live on society and we are clear that it is an obligation to help it.
The most needy require our individual and corporate commitment.
Realtyplus actively collaborates with associations and groups of refugees, reception, NGOs, ... carrying out events, collecting food, toys, donations, blood bank, ...
12 more reasons to be Realtyplus
These are the companies of the Realtyplus Group that will help you to be a little better every day in your work:
1. Onyourbeach
Onyourbeach is the world's leading beach property trading company.
It offers the following services to its clients:
Real Estate Developer: outsource your sales
Property developer: outsources the commercial department
Real Estate Developer: Commercial address
Marketing and publicity
2. ALLWIN
First hybrid real estate worldwide (online part and classic real estate part) that allows you to get more clients, more business, more turnover, take advantage of clients who do not want agencies, complementary income for life ... based on a Real Estate Marketplace.
3. GlobalCash
GlobalCash has the vocation to provide global financial services, but applied with ethics and great rigor.
Above all, we are looking for satisfied customers and customer input channels that continue to refer us in the future. For this there is only one way to work: always do things well.
4. Realtyplus Rent
At Realtyplus Rent we are specialized in taking care of how our clients would take care of their assets.
Comprehensive Rental Management is one of the most important services that a Real Estate Management company can offer to its owner clients.
5. Realtyplus Guest
Tourist rental is totally different from traditional rental. For this type of rental, totally different marketing, management and maintenance services are needed, which, if well performed, provide greater profitability, guaranteed collection and flexibility.
6. SmartRealty
SMARTREALTY comes from the collaboration between entrepreneurs from the face-to-face and online training sector, and from the international real estate network Realtyplus.
We develop training itineraries adaptable to the most demanding clients, with recognized qualifications nationally and internationally.
7. Realtyplus Personal Shopper
Specialized training, work tools and marketing focused on helping our clients find the property they are looking for, at the best possible price, within the established period, with the best financing and, above all, without problems.
8. Realtyplus Evolution
Realtyplus Evolution is the Research, Innovation and Development department of the Realtyplus Group.
We develop cutting-edge, professional and advanced Marketing work tools for the real estate sector.
From Realtyplus Evolution we manage and coordinate marketing campaigns, events, attendance at fairs ...
We develop a network of Partners that complement the services of the Realty-Plus Offices.
9. Realtyplus Invest
More and more real estate investors need to have authentic professionals at their side. That they are specialists in their work and capable of offering, not only a product, but also all the Services they need to evaluate operations, minimizing risks.
The globalization of markets has long since entered the real estate world. Investments have no borders and this is where true cooperation lies.
At Realtyplus Invest you will find a highly qualified team of specialists in Real Estate Investments, working closely with you with a first-rate Real Estate Group.
10. Realtyplus Funds
Increasingly, Large and Small Investment Funds have real estate portfolios that must be managed by professionals.
Many of these properties come from bank repossessions, but these Funds already develop their own promotions and strive to add value to their clients.
From Realtyplus Funds we provide all the services that these Funds may need
11. Realtyplus Green
Energy Efficiency and Renewable Energies, today, are fundamental areas in the real estate world.
It is not a fad, they are here to stay and, any company worth its salt must offer its customers Services in these areas.
Realtyplus Green wants to bring together the knowledge of the Realtyplus Group and the development of actions, projects, ... on Renewable Energies and Energy Efficiency in the real estate world.
12. Realtyplus Club
The world of Real Estate Investments, with Realtyplus Club, is no longer just about large Investment Funds or wealthy people. At Realtyplus Club we have created Custom Real Estate
Investment Funds to be the vehicle that allows small investors to act in Real Estate Investments.
It is an Investment CLUB where you decide the amount of the investment and the type of investment. Realtyplus Club does the rest.
To find out more about this incredible opportunity, simply click request free info.
Realtyplus Financial Data
The following financial information was provided by Realtyplus to give you more information about the costs associated with a Realtyplus opportunity
Total Investment
FROM 3.000 EUROS
Entrance fee
From 3.000 EUROS
Royalties
300 EUROS OR 3% TURNOVER
Advertising Royalties:
Not Paid

Contract Duration:
5 Years

Realtyplus Success Stories
Look at the franchisee's experience in Spain with the real estate franchise.
Realtyplus Master Franchise
Start a Realtyplus Master Franchise