Lorraine Kneebone - SmartPA Interview
Estimated reading time: 4 Min Read
Before starting as a SmartPA Partner, Lorraine was what's known as a 'lifer' at Royal Bank of Scotland, having worked there for 34 years before launching her own SmartPA business in March 2020.
We caught up with her to learn more about her career, becoming a business owner and her advice for anyone looking to become a SmartPA partner and launch their own virtual assistant venture.
What did you do before working as a SmartPA?
"I worked for Royal Bank of Scotland for 34 years before joining SmartPA. I had a few 'mini-careers' within that time. I spent around five years as an Executive Assistant which I really enjoyed and that is what inspired me to think about this role.
"The last 15 years of my time with the Royal Bank I was involved in the HR function, which has allowed me to offer HR services as well as being a virtual assistant."
How did you find out about SmartPA?
"I reached a point in my last company where I felt that I wanted to try something different. I wasn't getting any younger and I knew there was potentially an opportunity for redundancy coming along.
"I assessed what I had done to date and what parts of my career I had enjoyed. The experience that stood out to me and that I got the biggest kick out of was my time as an executive assistant. I really enjoyed my time doing that and being in the thick of it; being very reactive, very operational, solving problems.
"I enjoyed the HR side as well and I thought 'how can I use these skills and parts of the job that I enjoyed most'.
"I started doing research and came across SmartPA. I realised there was a franchise opportunity, and it just went from there."
How did you find starting a business during COVID-19?
"The world was crazy at the start of the pandemic and this made it a much bigger decision in terms of whether to continue or not. Nobody knew what was going to happen and I was asking questions of the head office and they reassured me that services were still in demand. They were confident that this was going to mean more remote working and that it was going to be accepted more quickly.
"For me, the timing was perfect because when I signed up, I had three months of training to complete. By the time I got my training completed I found that things had picked up again - I have found no shortage of available work out there. I have been incredibly busy and at the last count I have five retained clients and two that I do ad-hoc business with fairly frequently.
"It was really positive for me because at a time when it felt like the whole world had come to a stop, having my SmartPA business has really lifted me and reminded me that there's lots of busy people out there that are desperate for support."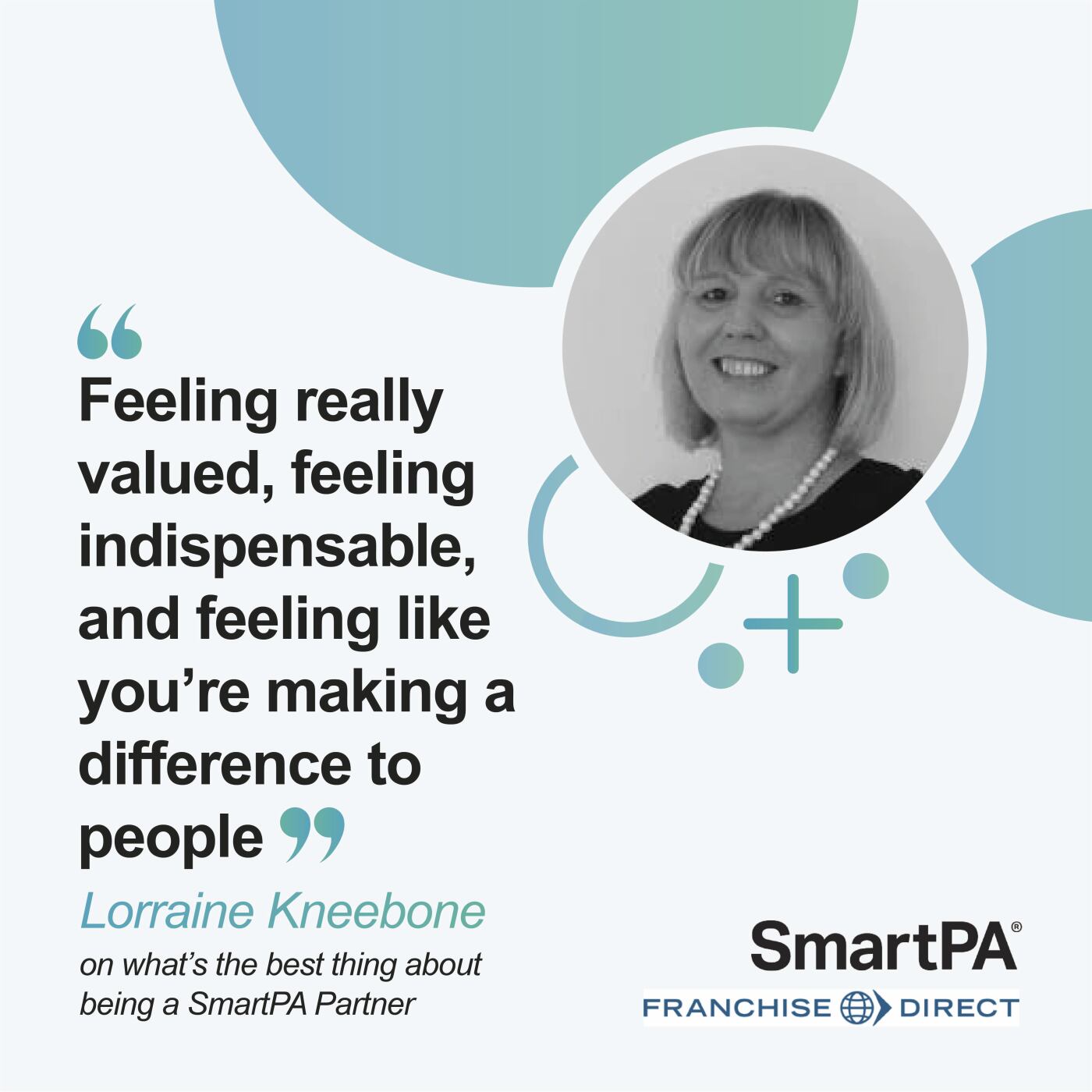 Why did you choose SmartPA?
"I liked the idea of being my own boss and having flexibility and variety, but I didn't have the confidence to step out there and do it alone. That was the initial attraction for me of starting a SmartPA franchise, that there was a way to be my own boss but have the support of the head office when I needed it.
"Once I started speaking to the team there and did my initial research the draw was that they were great like-minded people that seemed to fit with me and my values.
"Something that I have gone on to find that I didn't appreciate was the support and connections that you make with the other partners. I think I would have found it isolating being completely on my own and I like that I am part of a team, whilst still working for myself."
How did you find the onboarding process?
"It couldn't have been any easier. I raised an enquiry online, filled out a questionnaire and at that stage SmartPA reached out and offered a call. It is important to talk about that part, because if the communication hadn't gone so well and felt so friendly and welcoming, I probably wouldn't have reached the onboarding process. There was someone on the end of a phone I could speak to, it wasn't just a website or emails – the line was there for me to ask any questions or voice concerns.
"From that point it was really straightforward, there were a few forms to fill in and there's an opportunity to take a business loan if you want to do that. For someone who has never started their business before, it was made easy and the team at SmartPA really kept me right.
"I visited SmartPA HQ in Edinburgh and I was overwhelmed by how welcoming they were and the time that they took to meet with me."
What's the best thing about being a SmartPA Partner?
"Feeling valued and indispensable, that you are making a difference to people.
"The businesses that I work with are so grateful for my help and support and you can really see the difference you make to them.
"The flexibility is great; I can manage my own hours and within the next few years I have the opportunity to step down a bit but continue working with my clients."
Any advice for someone curious about becoming a SmartPA?
"Don't let impostor syndrome get in your way. You can do this, there is plenty of support from head office and the partnership network.
"You will learn as you go and can choose the work you do, which means you can stick to what you are good at. It is challenging work, but you can manage it.
"Don't underestimate the power of networking and don't be frightened of it! Don't wait to finish your training before you start networking, just get out there and chat to people."